Return to blog list
Feldfu project - introduction
Published on 21. Jul. 2022
Visited 999x
Welcome to the new article about Feldfu.b-h radio making from scratch. The goal of this project is to provide a visually authentic radio with similar functionality. This should offer very basic communication between two and more stations. Also please note, this will not be a playing with original tubes and resistors (an apology to avid radio amateurs). Instead we will use simple modern radio installed inside. The real benefit of this project is as usually:
the ability to demonstrate field or position usage of german WW2 communication technics which is often not possible with original pieces,
not damaging original collection items that are very hard to acquire,
100% display authenticity (even skilled collectors will have troubles to distinguish repro until disassembled),
maintaining authentic connection during events,
much easier repairs, easier accessibility, customizable version and many more...
As there are many interesting enthusiasts worldwide, there already have been few attempts to make Feldfu repros. However, so far it has not been able to combine functionality, material and visual experience at all. We will try to beat all three aspects and at the same time bring it with competitive price.
Material authenticity
So far, Feldfu box replicas have been made of metal or wood, which is neither mechanically nor visually suitable. Originals have been casted from bakelite, which was a phenol formaldehyde resin - the first plastic made from synthetic components. Bakelite is no longer produced today, because it was mainly technologically and economically surpassed by new plastics. However, new plastics offer us production options without making difficult molds and forms. As a result we can produce detailed models much easier comparing to carving wood or bending metal boxes. In fact, our Feldfu cases have very similar mechanical options to bakelite (durability and flexibility), only limit is a heat resistance (which is 80-105°C according to plastic used, 176-221°F).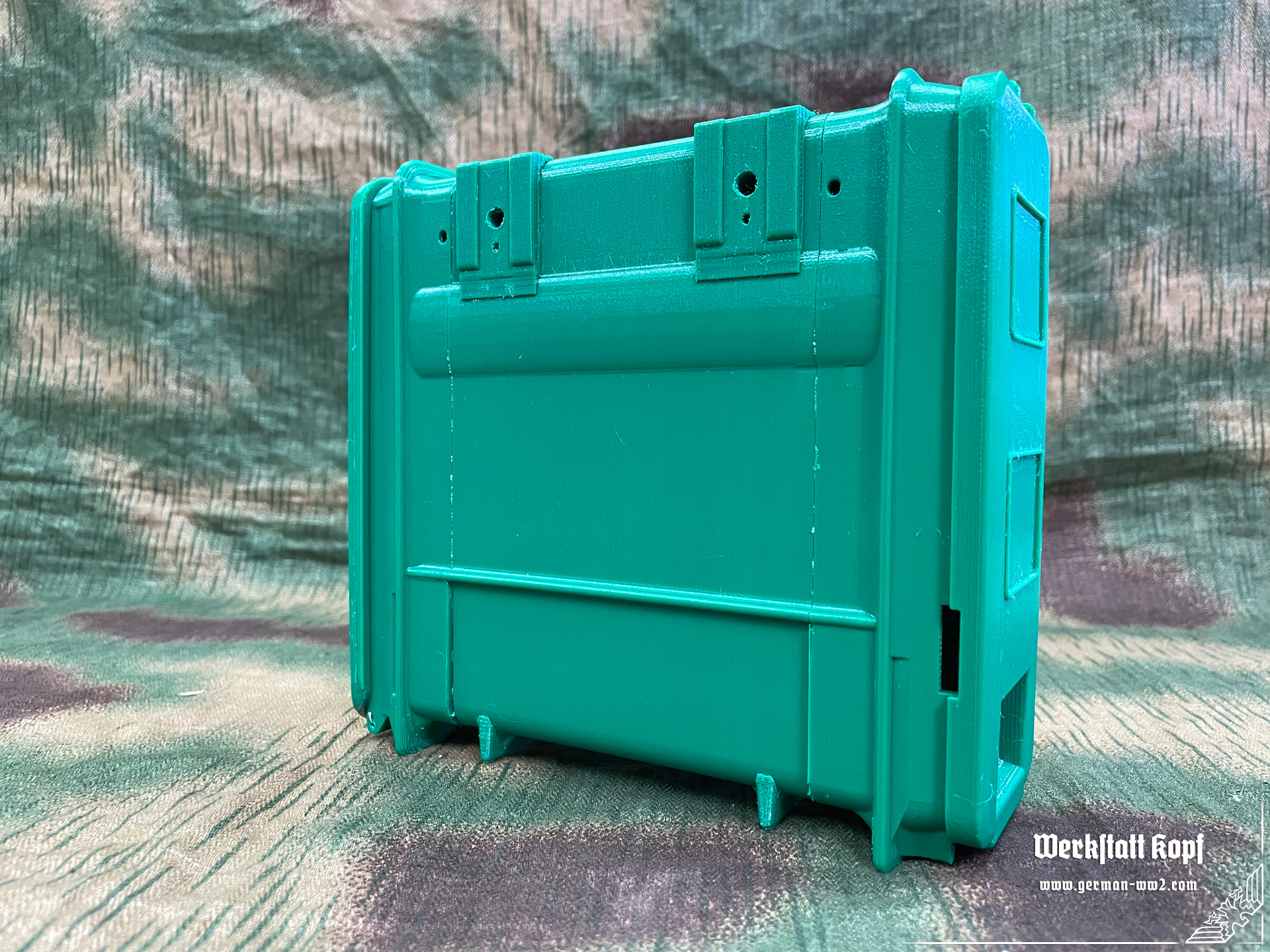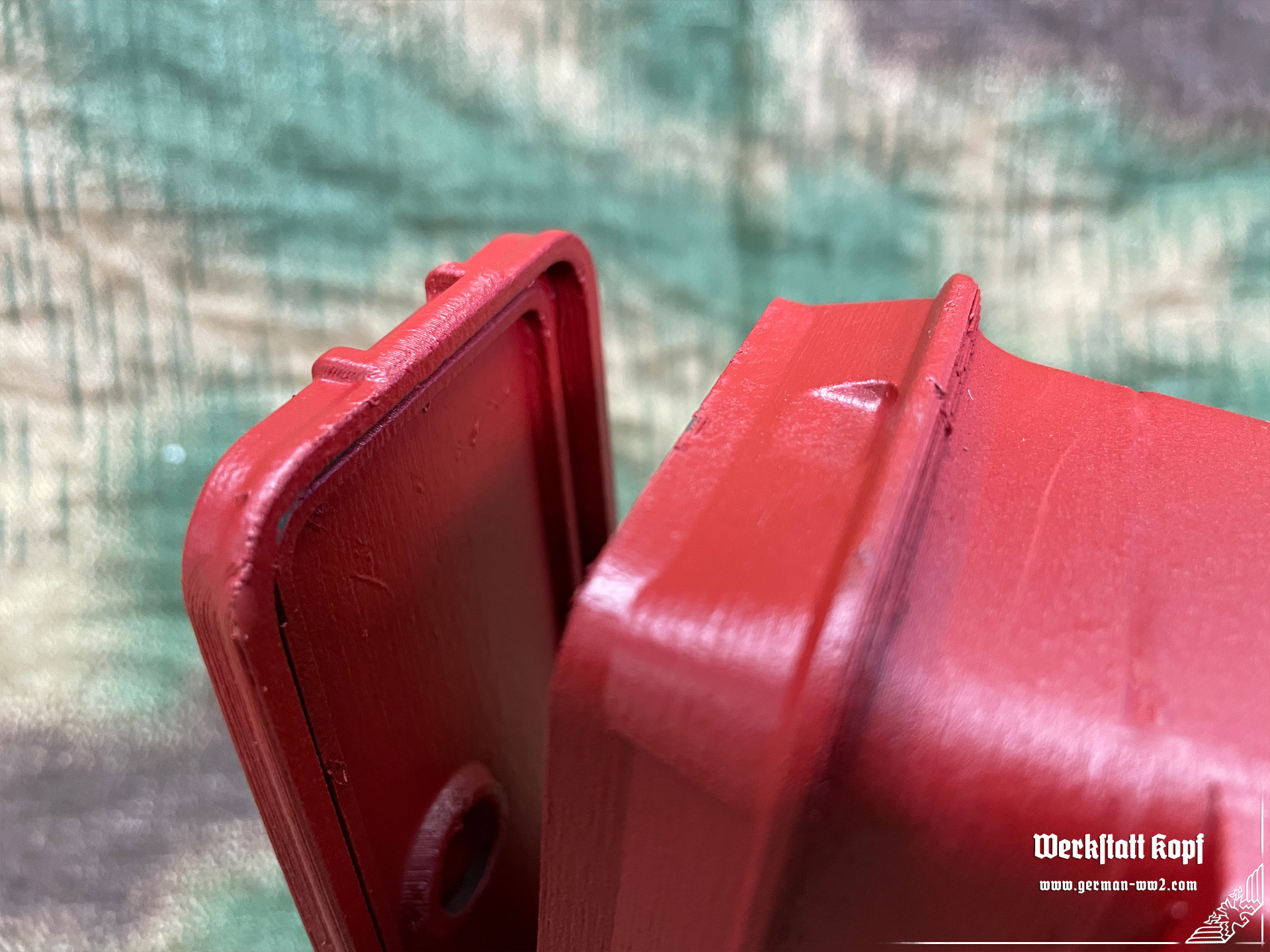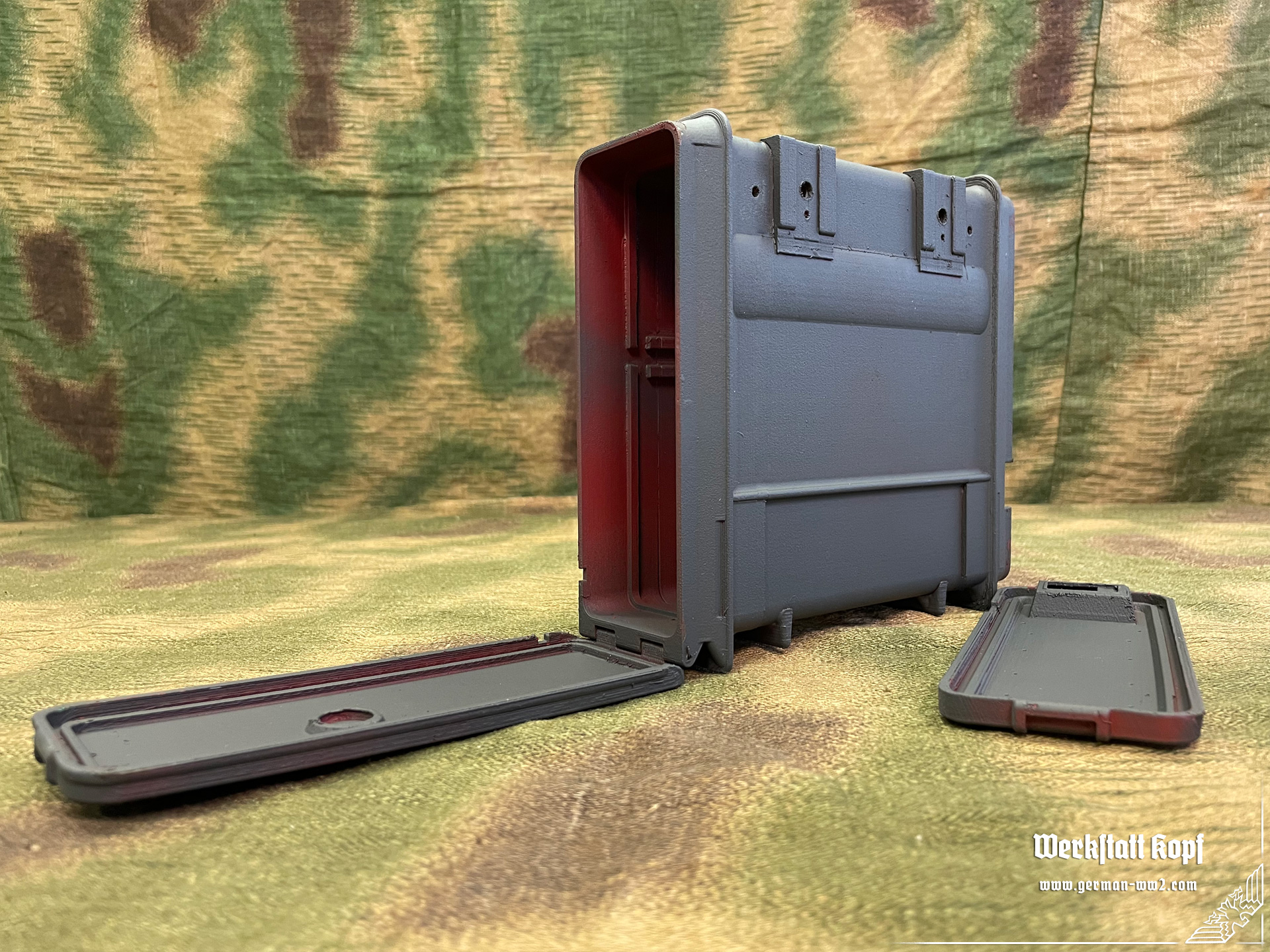 Original Feldfu description
Complete Feldfu boxes consisted of main bakelite case including the radio electronic, battery (Sammler 2,4 NC 28), foldable antenna (70-120cm), headphones (Dpf.a-Dpf.f), microphone (or throat microphone Kehlkopfmikrofon c), remote control cable (Fernbedienungskabel b) and backpack support strap (Rückenstütze a). Also some documentation.
Radio itself is connected with front panel, which is the most interesting and functional part (in bold). It contains frequency setting, battery indicator, volume and frequency tuning remote control, three connectors (1x mic, 2x phones) and on/off switch.
Overall, our Feldfu radio consists of 141 parts and another 231 rivets/screws/pads needed for completization. It is also a result of 4 months of development.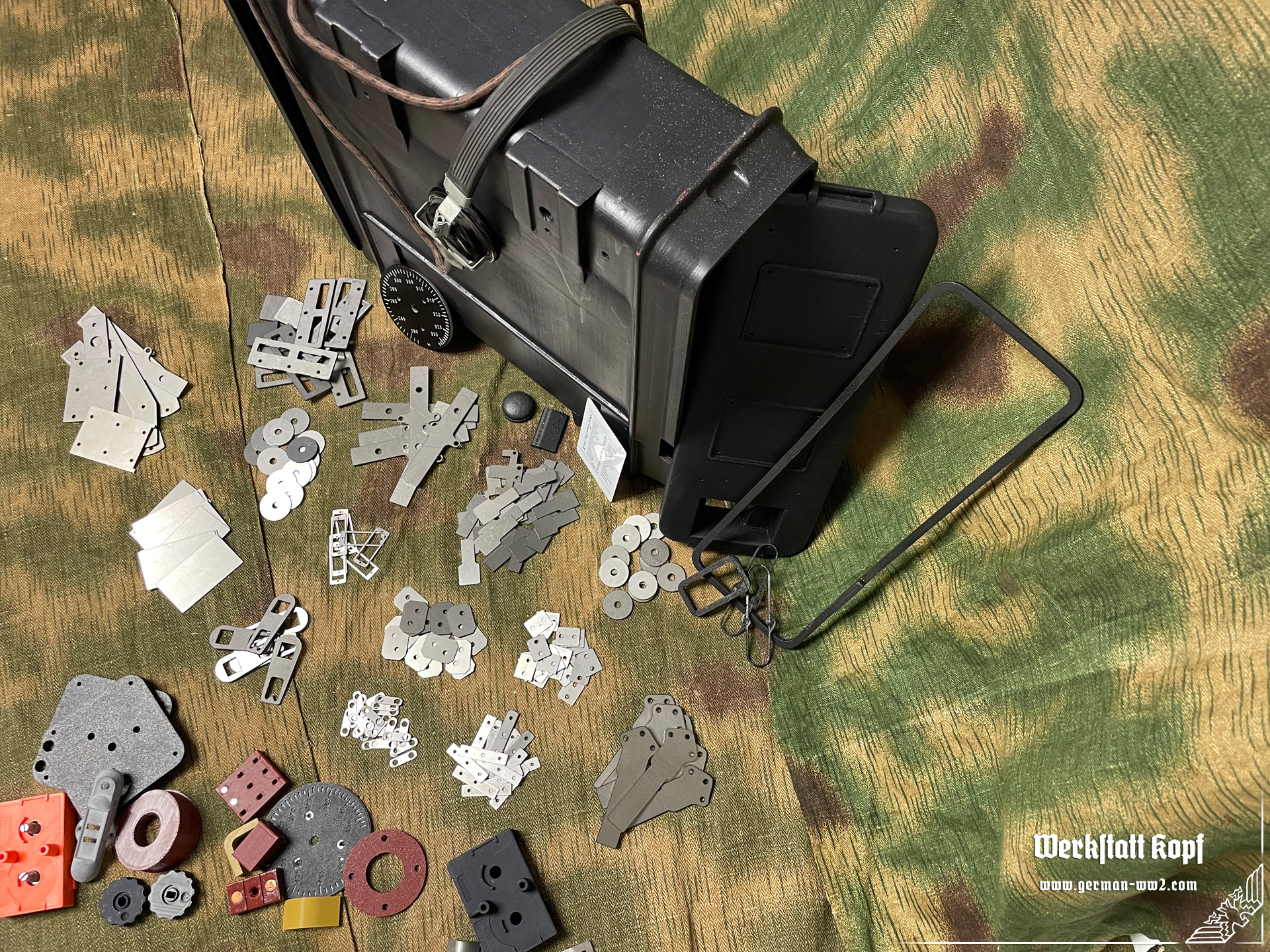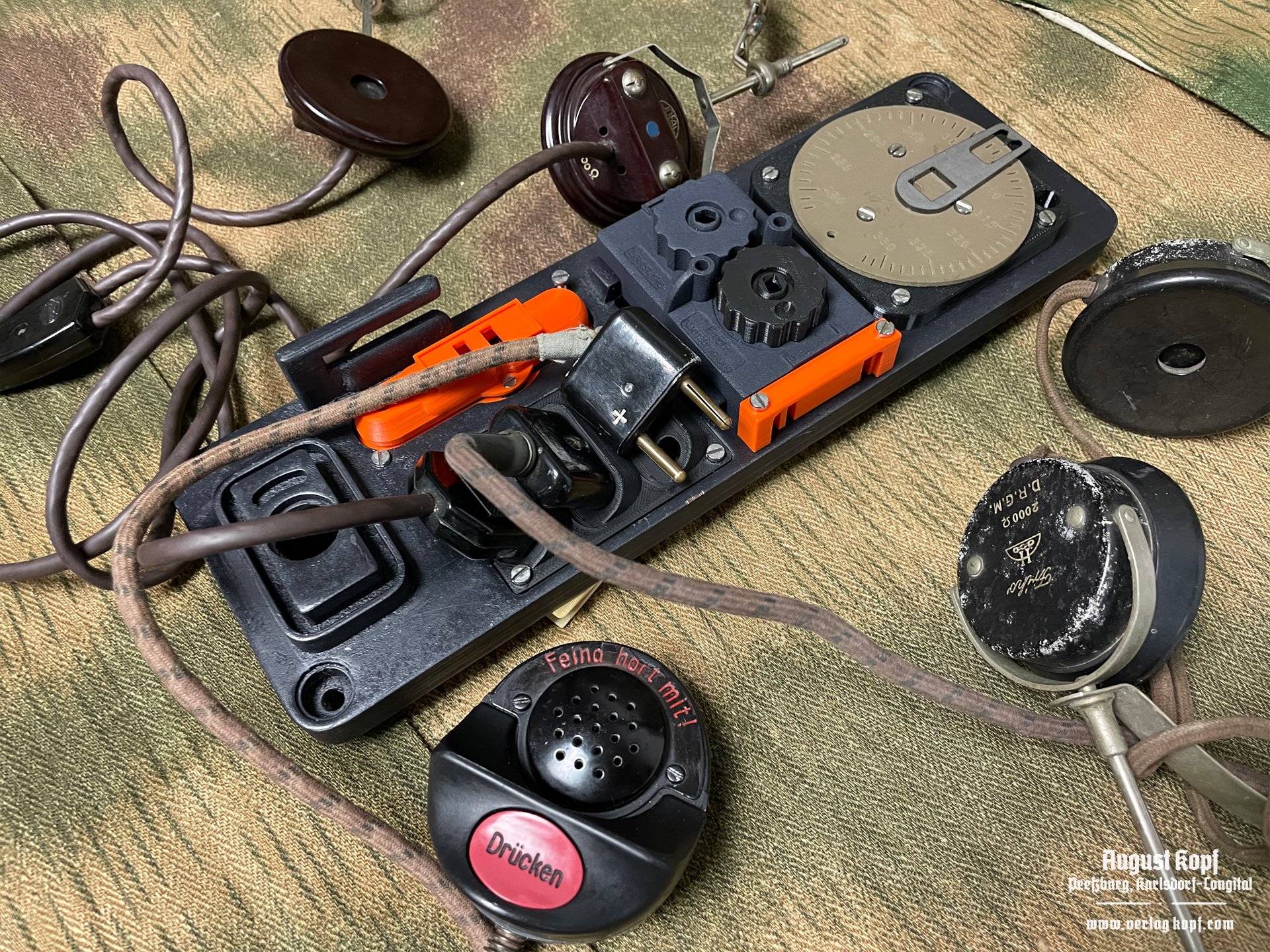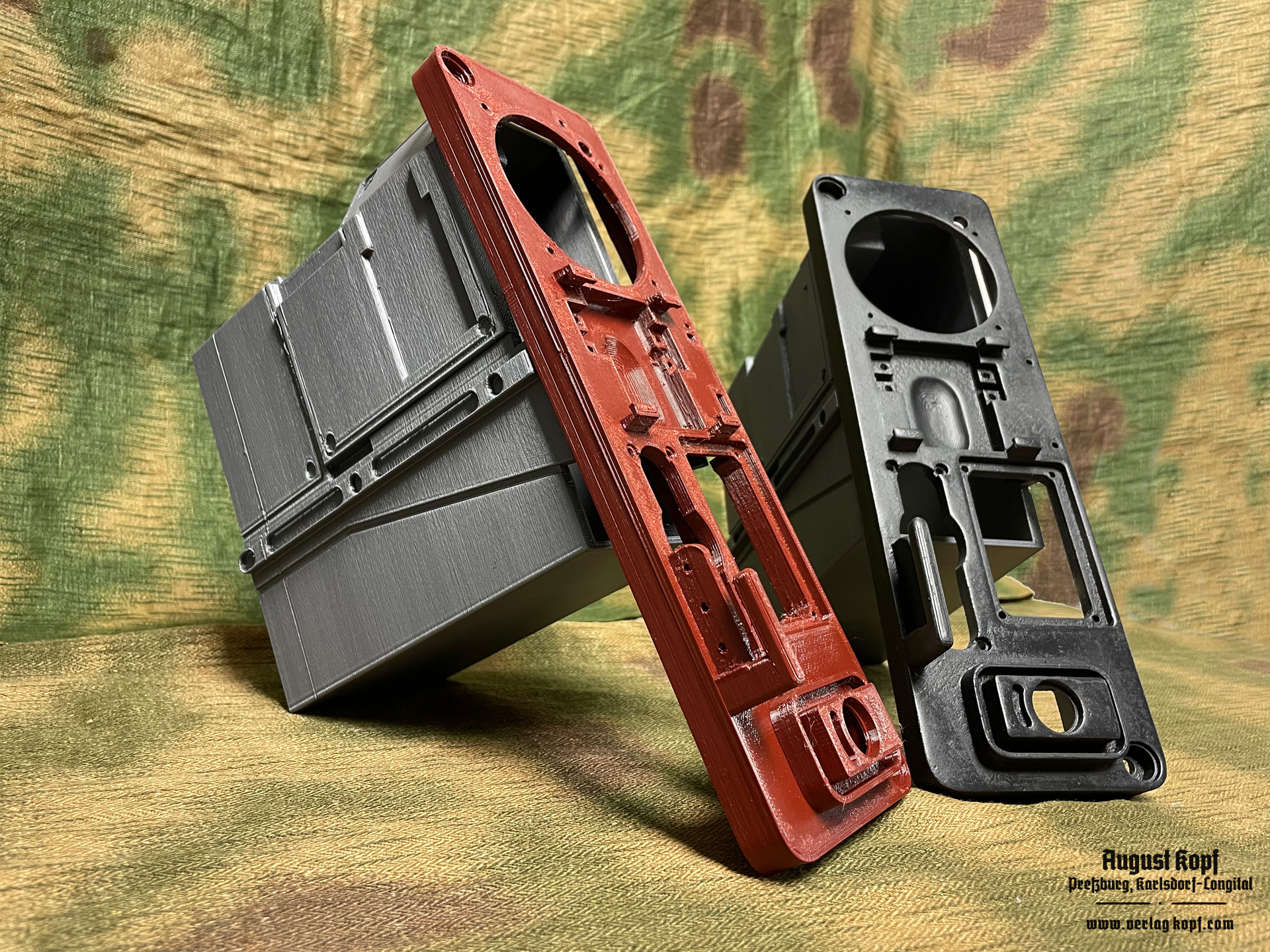 Due to the availability of individual items and universal use, headphones, microphone and backpack support strap are not part of our Feldfu reproduction. Either it can be purchased individually on our e-shop or we can give you links where to find it already reproduced.
Production process
In complex project like this, many of our skills were tested: 3D modelling, 2D vector drawing, 3D printing, MJF printing, laser cutting, metal bending, soldering circuits, leather cutting, leather and canvas sewing, riveting, sanding, lacquering, 2D designing, retouching handbooks, printing, book binding.
Authentic metal inserts give the box a necessary durability and weight. As in original, these also serve for dividing radio electronics section from battery and storage section. All dimensions are very precise, as the box allows for very small differences.
Reengineering the original parts was iterative process that often includes manual fitting, remodelling and new 3D printing. Simple device often consists of multiple parts made of rubber, plastic, foil or even steel.
All parts were often tested for size measurements. Working devices are firstly prototyped on low-cost printers. Bright colors are used for better revealing of edges and small details. Final parts are made on high quality MJF printers.
We copied even the tinest details from all devices. Authentic thickness is also crucial, parts come in 0,5-1-1,5-2mm. This makes our project a truly unique and hard to recognize replica.
This little device - Bedienungsteil b serves for volume control and frequency tuning. As our reproduction will communicate only on one frequency, only volume control will be functionable.
As in original, repro electronics will be stored in the central brain. Modern device will save about 3kg of heavy weight.
Designs of frequency setting and antenna base depends on the Feldfu model. We cover all options.

All graphics was remastered and tested to fit original radio. White tables can be written with a pencil for code signs and notes.

Radio will come with handbooks and brief service manuals.

Connectors allow to use various various accessory setups. Microphone/throat mic and 1 or 2 headphones.
Version differences
Thanks to the very small differences among the versions of the radios, we are able to offer following designs: Feldfu.b, Feldfu.b1, Feldfu.b2, Feldfu.c, Feldfu.f, Feldfu.h.
Each of the model has interesting history and appeared in different year based on different assignment. Most visible differences are following: thin/thick rim (early models have been often reported as prone to cracking, so later in war these were replaced by more resilient skelet with rubber buffers), frequency meter (various models operated on different frequencies and clock was redesigned), antenna base (inclined for models f/h), color, markings etc.
If you portray an early war unit and battles 1941 - 1943 you should go for a thin rim case.
Following table contains basic differences and only indicative assignment to units. Infantry units were assigned with 4 Feldfu.b on a Kompanie level. Feldfu.f were designed for communication with FU5 set in tanks they were supporting. Feldfu.h were designed for communication with FU16 set in Sturmgeschutz (more reading in Funksammler publications also listed in the footnote).
| | | | |
| --- | --- | --- | --- |
| model | usage | original frequency | design |
| b | infanterie | 90 - 110MHz | thin rim, red dot |
| b1 | pioniere | 90 - 110MHz | thin/thick rim, double hinge, red dot |
| b2 | panzergrenadiere | 90 - 110MHz | thick rim, grey frontpanel, red dot |
| c | infanterie/sturmpioniere | 130- 160MHz | thin rim, two green dots |
| f | panzergrenadiere | 27,8 - 32,2MHz | thick rim, white dot, white angle L on top |
| h | STUG units | 23,1 - 25,0MHz | thin rim, orange code, top orange H |
Radio testing
Very interesting is the operational range of the original Feldfu.b radios which was only 1,5km; Feldfu.c only 500m (due to antenna design). Also connection required relatively direct visual connection, without interruption by the movement of people or terrain.
These days we are testing our modern radio communication. We will report shortly in next episode of this blog.
Pricing
Our policy is very simple. Those who support us from the beginning and are willing to help fund project from early stages can enjoy the best prices. This means a little longer waiting for the results, but as always - customers are satisfied with preorder outcomes. Moreover you can save extra 5% for using bank transfer or PayPal F&F (contact us before ordering). We are also open to various requests, e.g. selling radio without modern electronics, or in contrary adding another walkie-talkie for communication.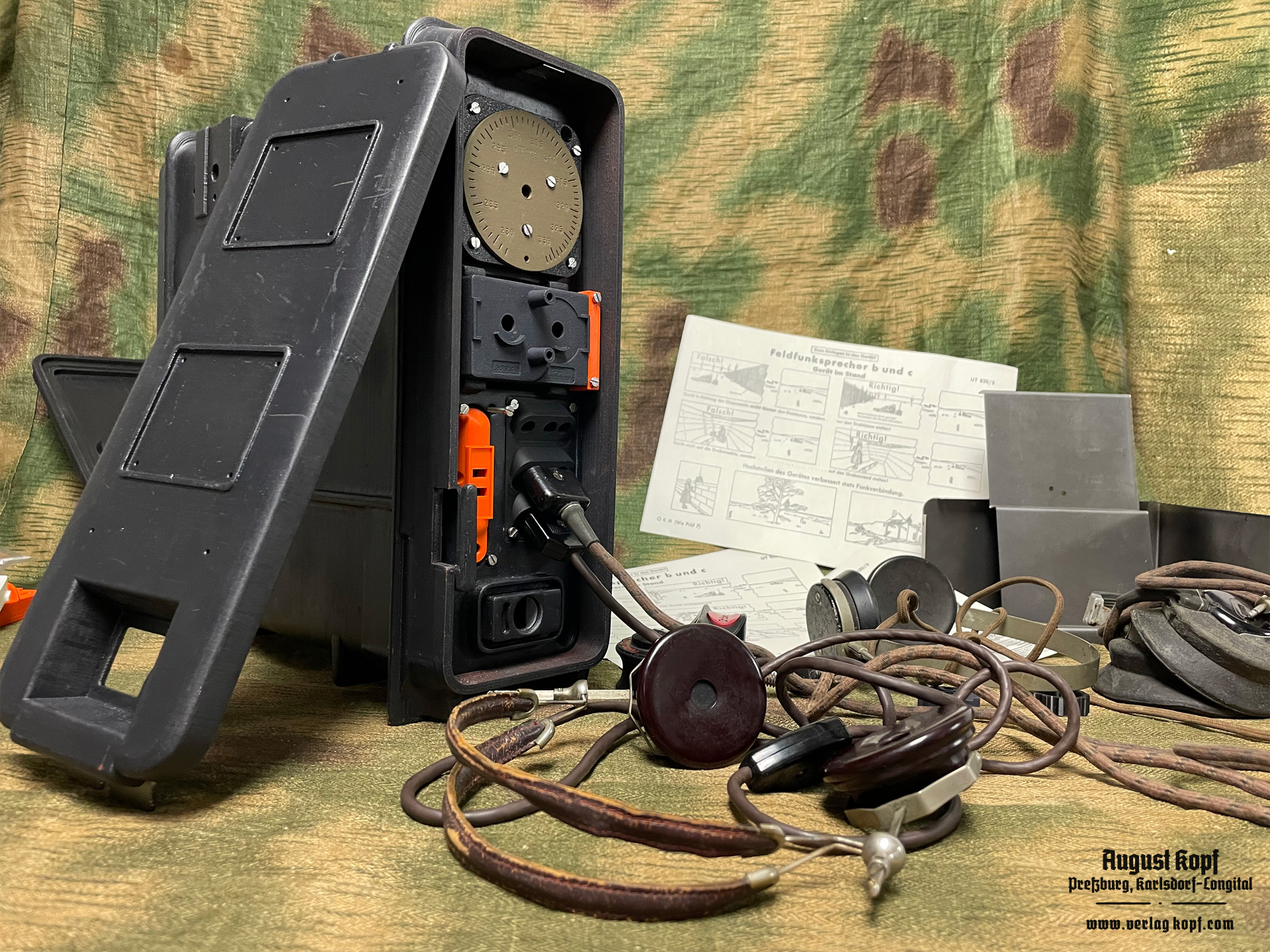 DYI
This project was apriori ment as lowcost option for all who want to enhance reenactment impression. Soon it became apparent that engineering all the plastic/metal/leather/canvas parts and making many prototypes will result in something bigger. Creation of our models took several weeks and originated from genuine 1944 Feldfu.f thick rim. We will surely publish our 3D files for sale for all who like challenges and want to take advantage of having their own 3D printer. We are looking forward for next Feldfu brothers and sisters!
---
We are very thankfull for all the radio gurus out there! It is trully incredible, how absorbing the radio hobby is. Our sincere thanks go to the authors of posts and articles, where most of the information were acquired:
https://www.kriegsfunker.com/radios/feldfu_b2.html
https://sites.ph9.com/RemcoCaspers617/upload/editor/files/Feldfunksprechers(1).pdf
https://www.militariacollectors.network/forums/topic/3485-b-is-for-feldfunksprecher-b-b1-b2/
https://feldfunker-la7sna.com/Feldfu_f.htm
https://www.der-fernmelder.de/
Latest articles in blog