Ordering process

It is mostly a passion, not a job
Verlag Kopf's activities has begun as a hobby and still remains mostly a hobby. We gladly serve to any of you, who are interested in history and particular products. But at the same time, we take our time for development. Our shippments could be sometimes a few days late, but then you know, that we take care about quality and most probably we were waiting for some improvements for your order. Do not think that feldpost at the front was faster.
Historical corectness
We try to make repro items with maximal historical corectness whenever is it possible. We usually do not reproduce items that can not reach expected quality. We have satisfied many customers with various materials and flexible approach but sometimes we have to refuse an order because we do not want to produce items that we do not consider as proper.
Historical look
Many of you have noticed the special care for used papers. We print many labels and ettiquetes onto 40 years old paper. Such paper have slightly yellow tone, does not look like it survived the war and still does not look like common office paper.
Quality at the first place
Old printing machines worked on different principles than modern printers. We have to consider this when designing old ettiquetes again. The main attribute is sharpness. For satisfying our customers we use 300-600 DPI printing quality. The more detailed quality, the longer it takes to draw or design any illustration. However, quality and satisfaction is valuable for us. Just for mention, there are many manufacturers that use only above 70 DPI and you can tell from item look.
Placing your Order
Click on a product photo or product name to see more detailed information. To place product to Shopping cart click 'ADD TO CART' button. You can add multiple products at once. If there is not enough items on the stock, system will allow you to add only limited number. Complete the Order Form Choosing "Shopping cart" in navigation allows you to proceed in shopping proccess. Please enter the required information such as Delivery Address, Quantity etc. Before clicking "Submit Order", please check your Order Details carefully. Once you completed single step, you can click between proccess steps and edit information.
Payment
After submiting your Order, you will be automatically moved to the Order details page, where is PayPal payment button.
PayPal button
will redirect you to payment site. We accept payment by Paypal (you may pay with credit cards: i.e., Visa or Master Card). Please contact us for using
Bank Transfer
(SEPA payment by IBAN).
Shipping cost
There are some strict weight limitations for calculation of shipping costs. It is very likely that we will partialy refund you shipping cost, when the package is lighter than expected. We can see this after dispatching in post office.
Many of our customers get immediately PayPal refund.
Shipping information
We ship orders whenever it is possible. We will try to dispatch your order within few business days after accepting the payment, however sometimes it could take up to 15 working days. Please check item description, if you order PREORDER items or customized items, the dispatching could take 20 days or more.
Delivery information
We use national post office to dispatch your packages.
They never lost any of our packages.
Each order is sent as registered package and thus is tracked. You will be notified by e-mail with tracking link.
If you did not received e-mail, kindly check your website account history if there is tracking number provided.
If we did not send your package for longer time, feel free to ask about dispatching process.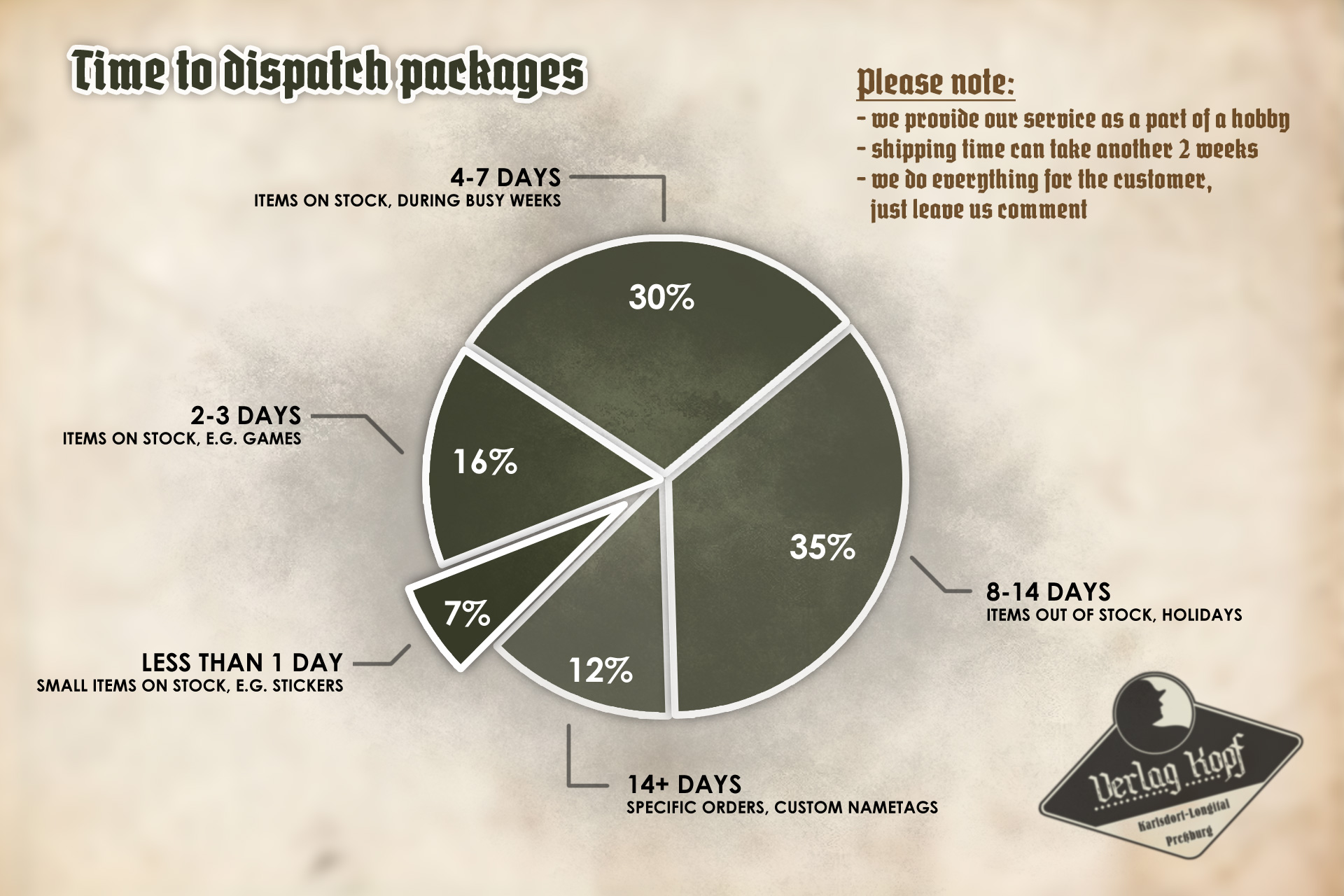 If you prefer not to order online, you can send us your order by e-mail or phone. Please see our contact details page for contact info.