Weihnachten Mystery Box - Deutsches Reich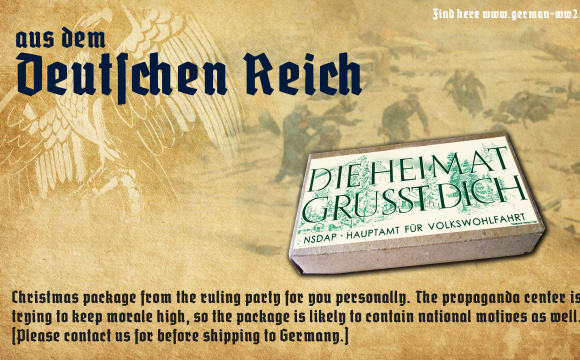 Category: Mystery Boxes
Item #313
We made a huge pile of useful items, food, warm clothes, writing tools and some suitable Verlag Kopf products. It looked the same as on wartime pictures in distribution offices - just before dispatching supplies to the front. Yeah, we didnt forgot to add some candies and pastry! And also few things that would be banned on facebook, so you will have a surprise :) We shuffled all of these and randomly inserted into prepared packages according five classes:
Feldpost Geschenk aus der Bäckerei
15€ (contains local made pastry - yummyyy)
Feldpost paket von einem Freund Georg
25€ (value 29€+)
Feldpost paket aus dem Deutschen Reich
49€ (value 59€+)
Feldpost paket von eine reiche Tantchen
79€ (value 89€+)
Feldpost paket höhere Klasse
119€ (value 139€+)
Total price of the whole lot was over 3650€ !!! This all was randomly picked and packed to 15x (Bäckerei), 15x (Georg), 10x (Reich), 15x (Tantchen) and 5x (Higher Class) boxes! If you want to buy yourself a gift and be a little bit surprised, this is your choice!
Package from the fatherland represents a ruling party Christmas gift. The propaganda center is trying to keep morale very high, so the package is likely to contain national party motives as well.
NO SHIPPING TO GERMANY FROM OBVIOUS REASONS. PLEASE CONTACT US WHEN ORDERING FROM GERMANY :)
Stamped cardboard Feldpost box is included in the price. Suitable for WW2 impression. All packages have unique content. Packages do not contain modern looking items.
This product is currently out of stock.
Login
to add it to your wishlist.

Customers who bought this, bought also:
Similar products in category: