Propaganda-Gewehrgranate inert metal repro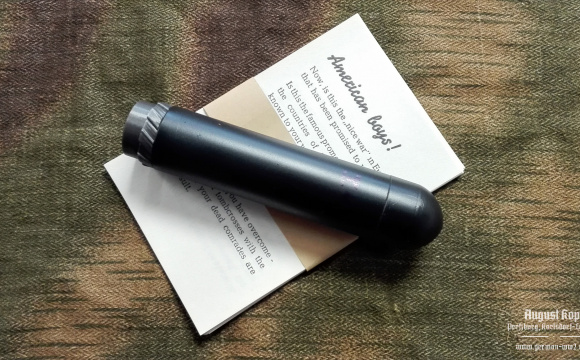 Category: Inert metal repro.
Item #444
Limited serie of steel propaganda shells. Black leaflet cases are based on original instructional handbook. These are to be inserted into steel shells. Leaflet-load weighed about 30gramms and was released into the air after 9 seconds of grenade flight. We printed four different versions of propaganda leaflets, to be used both on western and eastern front (two of these are included with this item).
A very unique metal reproduction of Gewehr granate, intended for exhibitions or as a movie props. Three parts are demountable by authentic threads. None of the parts are interchangeable with the original ammo, and therefore not functional.
Made to fit our GGG, so grenade diameter is exactly 30mm (the guide thread does not protrude, serves only for visual purposes).
PLEASE NOTE:
The whole item is new and inert, made to look authentic but could not be working. It is not supposed to be fired or actively used. Dedicated for visual purposes. Will fit original granaten-werfer (e.g. museal or movie purposes) however barrel thread would not work. Former bakelite thread is made of plastic 3D print now and top cap is fixed by thread (unlike the original, which was only put) for handling purposes.
Some info from our handbooks:
FILLING OF THE PROPAGANDA MATERIAL (pic. 18 & 19) Take off the cap. Roll the stack of papers (papers laid over one another) tightly in the hand so, that on the half size of the emerging paper cylinder lie the staggered paper edges. The paper strip that holds the stack of papers together is to be removed, conveniently after the rolling (pic. 18). The rolled stack of papers is to be placed into the cartridge case with a light turn so, that the winding runs from inside to outside clockwise. The papers must be rolled in the case so, that no paper overlaps the rim of the case. Put on the cap tightly. (If necessary, clamp the cap from the case with paper strips.)
Consider buying also handbooks with important informations about handling
https://www.german-ww2.com/product/gewehr-granatwerfer
.
This product is currently out of stock.
Login
to add it to your wishlist.

Customers who bought this, bought also:
Similar products in category: