Adler Luftwaffenspiel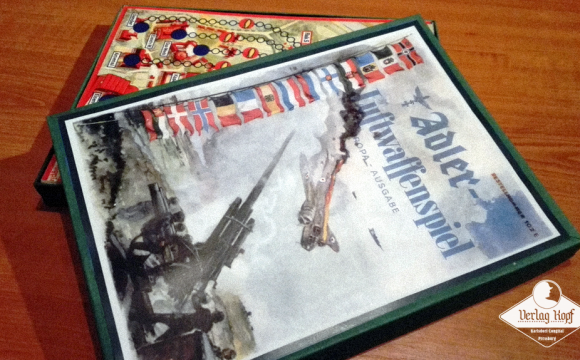 Category: Board games
Item #62
Very precise reproduction. Luftwaffenspiel is another of Verlag Hugo Gräfe games (No102E) with clear purpose: to teach a new german generation about the war. Many of games were made in very attractive design and with interesting game-rules.
This game for two players, should clarify to German youth the role of each war factors: artillery defense, barrage balloons, bombers and the important role of Luftschutz units.
Original package includes instructions on four pages. It is quite definite, despite that the game creates several situations where the rules must be agreed between the players.
Our game includes translated instructions in three versions: German, English and Slovak.
Tha game is played with 6 dices (AA guns, bombers, fighters, bombing and Luftschutz). Every player has 12 wooden airplanes.
The inside of the box is atypically cardboard divided into individual parts, where are stored figures for both players and dices.
Dimensions, colors, rules - everything made according to original one.
This is what makes our games perfect:
box is made exactly according to original, cornes are tinkered manually
retouched front label in nice high quality
translation of original instruction sheet into another two languages
genuine cut of game board
retouching of whole game board and printing on resistant surface
vector based laser cuts of playing figures
lasering and milling the special playing die
manual colloring of dices and playing figures
Contains:
1 game-plan
6 dices, 24 colored playing figures
4 spare figures (in case of loss or damage)
rules in three language versions (EN, DE, SK)
Estimated game duration: 60-90min.
So, let's enjoy!

Customers who bought this, bought also:
Similar products in category: