US D RATION MASTER CARTON 12x 4OZ chocolate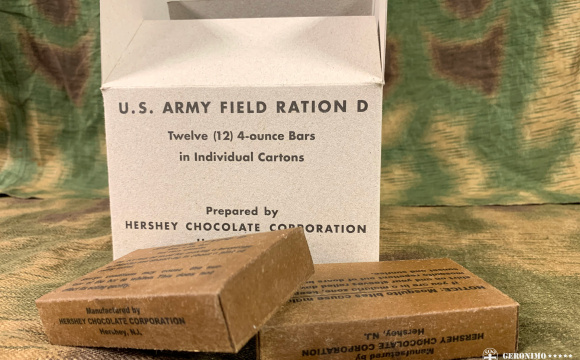 Category: US rations
Item #618
An authentic complete box, full of 4oz chocolates. In authentic cardboard wrapping.

D ration was developed in the midwar period as one of the basic field rations of the US Army. Our reproduction is made in accordance to the original specifications, the only thing we do not follow is its taste, the original one was designed to "taste just a bit better than a boiled potato", but ours taste awesome – try it! This master carton contains 12 pieces of wax dipped 4OZ D bars – exactly as the real thing back in WW2. The master carton was further packed in a wooden shipping crate – which holded 12 of these cartons, so the shipping crate itself holded together 144 pieces of 4OZ D ration bars. (Contact us for making special offer of 144 pieces for you!). Actual edible content, sold for display use.

Chocolates are individually wrapped and packed, all 12 with matching design. Shape is based on original.

This package should last you for some time! It is 1,5kg of tasty chocolate.

Customers who bought this, bought also:
Similar products in category: