K RATION - Type II Set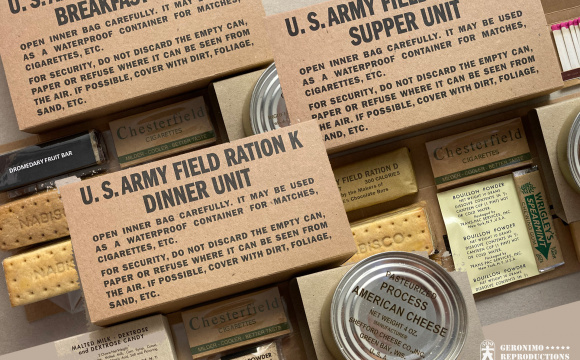 Category: US rations
Item #718
Special offer of very unique daily US rations. Complete US day ration, completly outstanding. This amazing full day ration weighs above 750g and will surely feed you for more than one day. We checked all the details of that properly waxed and sealed boxes in nicely looking wrapper boxing, containg all that detaily sealed chunks in cellophane and properly measured crackers and all the components chosen by original manufacturer and so many more... AND WE ARE AMAZED by the effort made by our partner manufacturer, so we proudly offer this set (Breakfast + Supper + Dinner) in our eshop.

"In February of 1943 the addition of instructions on its front panel of the outer carton was approved. As of March 1943, all confections were shortened to 3 1/8". Inclusion of a matchbook in one of the units was approved. The matches were already included on the production line before official specifications were drawn up, resulting in the inclusion of the matchbook in the Supper unit sometimes instead of the Dinner unit. The type II is only produced for three to four months. The Supper unit still contains three sugar tablets. Later, shortly before the introduction of the toilet paper with Type IIIa, these were omitted. " More on http://www.kration.info/.

Our reproductions are copying the original K rations as much as possible and are composed of three wax dipped units – meals (breakfast, dinner, supper). Each meal includes approximately 4 ounces of canned product, biscuits, confections, gum, beverages with sugar,cigarettes etc. Try them! Actual edible content, sold for display use.

The canned products contain exactly what's written on them.

Everything is properly sealed so you will get that unique feeling of opening something prepared as original rations.

This set is suitable for early years 1942-1944.
This product is currently out of stock.
Login
to add it to your wishlist.

Customers who bought this, bought also:
Similar products in category: