Tragschlaufe standard ammo package Kar98/MG/MP40/STG44 empty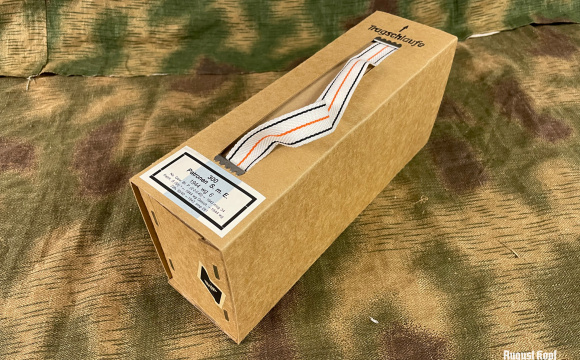 Category: Boxes/Packaging
Item #746
"Tragschlaufe " battlepack cardboard package is suitable for packing different ammo types. It meets all packaging dimensions - either internal for small cardboard boxes, and correct outer dimensions for packing into wooden Patronenkasten.
Beside classic features that all manufacturers do - stamps and labels, we produced this packages with extra details such as:
- steel reinforcing teeth
- steel reinforcing eyelets for strap
- custom produced strap
- correct staples
- buckles made in Germany
- correct measurements (±1mm due to manufacture process)
Suitable for packing ammo:
20 x 15 7,92mm x 58 (Kar 98, MG34/42 ...), total 300 Gewehrpatronen
52 x 16 9mm x 19 (MP40, P38, P08), total 832 Pistolenpatronen
28 x 15 Kurzpatronen 8 x 33 (Stg, MP44), total 420 Kurzpatronen
We offer following label designs, please choose preffered in order comment:
type.1) "15 Patronen s. S." (schweres Spitzgeschoß 1940)
type.2) "15 B-Patronen" (Beobachtungs- patrone mit phosphor)
type.3) "15 l.S." (leichtes Spitzgeschoß)
type.4) "15 Platzpatronen" (training wooden bullet)
type.5) "15 S.m.E." (Spitz mit Eisenkern)
type.6) "15 S.m.K." (Spitz mit Kern)
type.7) "15 Patronen s. S. i. L" (schweres Spitzg. in clips)
type.8) "15 Patronen s. S." (schweres Spitzgeschoß 1936)
type.9) default - we choose random from different labels
There is option to acquire extra stamp
"für MG"
or
"In Ladestreifen"
or
"Lackierte Hulsen"
.
This product is currently out of stock.
Login
to add it to your wishlist.

Customers who bought this, bought also:
Similar products in category: