Set of 8 different skills booklets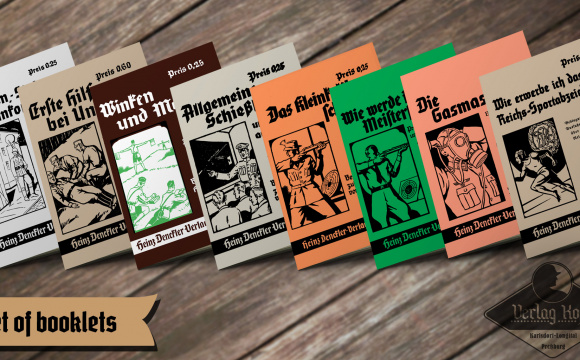 Category: Instructional booklets
Item #195
Set contains 8 useful repro booklets in uniform look.
Booklets contain very different topics, that are crucial for good reenacting knowledge and personal impression.
List of titles:
Allgemeine Schießlehre
Die Gasmaske 30
Kasernen-, Stuben- und Schrankordnung
Das Kleinkaliberschießen
Erste Hilfe bei Unfällen für SA, SS, HJ, Arbeitsdienst und freiwillige Helfer
Winken und Morsen mit Anleitung zum Selbstbau eines Blinkgerätes
Wie erwerbe ich das Reichssportabzeichen für Manner
Wie werde ich Meisterschütze?
Link to complete overview
.

Customers who bought this, bought also:
Similar products in category: