Original Lagerfett - Tank Bearing grease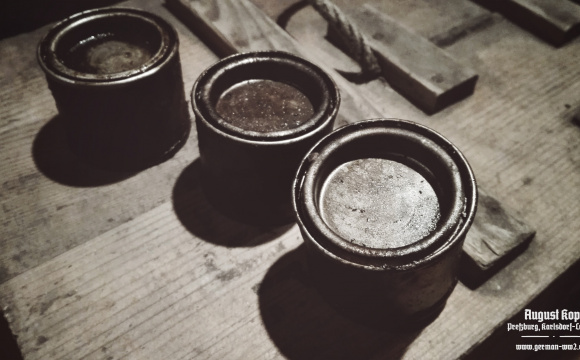 Category: Misc.
Item #410
New offer of rare wehrmacht reparation kit cans. It is almost impossible to find them nowadays. Here we offer very old cans from german production. These are rare grease cans, found in factory old stock.

Old worker that works here in factory confirmed, that these cans are from old military supplies. These were probably used after the war in factory heavy machinery. According his knowledge, these should be part of reparation set for tanks or airplanes bearings. The size of cans is very small - less than 5cm, so the reparation kit is the only option.
Labels are soaked by storing oil, but on some of them it is possible to read the official title "Heisslagerfett DY-210" (check detailed photos, its readable). So the dedicated usage is as Bearing grease constantly in motion with build up of friction. This make it a great souvenir for panzer crew, kettenkrad, kradmelders, or other WW2 technical crew.

Makes nice display, great for all ww2 collections, ideal for panzer, sdkfz, motorbike collectors.

Customers who bought this, bought also:

19.99€
Out of stock.
Similar products in category: