MP40 Dummy Magazine & Star Wars Sandtrooper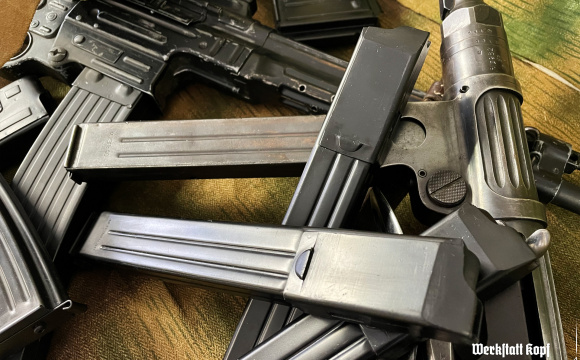 Category: Rubber resins
Item #648
Even it seems surprising for German reenactors, these magazines are suitable for Star Wars Stormtrooper impression and are popular costume props.

Original vendor description:

This authentic 32 Rnd. German MP40 Replica Dummy Magazine is extremely accurate in its appearance and made of black durable hard plastic, molded to the exact size as the original magazine. The black finish looks like the original magazine's blued/phosphate color, and appears like the real thing when placed inside the magazine pouches.

They can be used by other cosplay enthusiasts, professional reenactors, or museum display impressions, where the real thing is illegal or too valuable to use. An affordable Cosplay and reenactment gear item.

1 piece.

These resin products are very good option as a pouch fillers, when original magazines are very expensive nowadays. Also it appears as the last viable option in countries where original magazines are prohibited, with authentic measurements and realistic weight preserved. Moreover it is very suitable for shipping inside EU so you dont have to pay extra import fees.
This product is currently out of stock.
Login
to add it to your wishlist.

Customers who bought this, bought also:
Similar products in category: