Medical set #4 WW1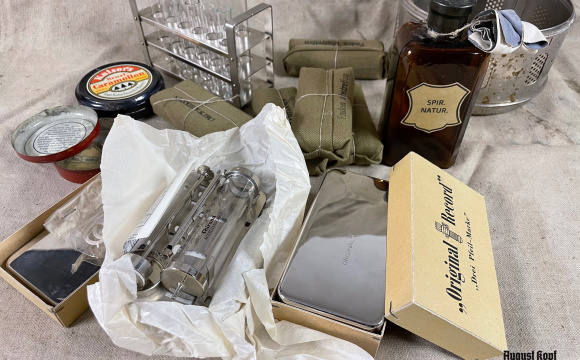 Category: Medical/sani sets
Item #550
Huge set of combined original and accurate repro medical items. Ideal combination for you sanitary impression, field hospital. This items will fill a table and create a perfect impression.

This bundle set includes:
- 1x metal steriliser (postwar genuine round steriliser in nice condition, with old stains)
- metal rack for testing glass, test tubes glass incl.
- 2x vintage metal tins, not dated
- 1x army glass bottle Spir. natur.
- 1x complete set of Record syringe in metal package
- 5x WW1 army bandages Please note: Only one Record syringe package in this set.

All comes empty, no liquids, no medicine. Brown bottle is sealed empty.

Overall retail price is over 159€.
This product is currently out of stock.
Login
to add it to your wishlist.

Similar products in category: