Luftwaffe pilot's mirror Blendspiegel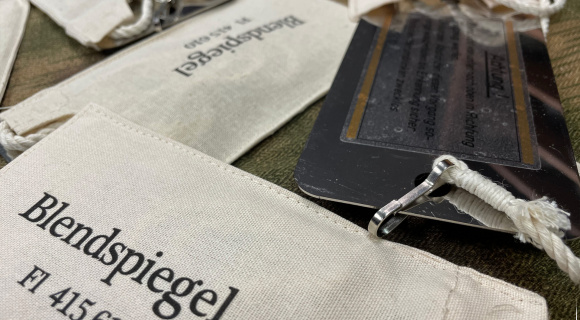 Category: Misc.
Item #301
Early war Luftwaffe rescue navigation accessory for flight crew (pilots etc.). A very unique reproduction of Luftwaffe gear. Usually sold on the most expensive auctions.

Identical marking, proper size and weight. Comes in canvas pocket, and attaching cord. Metal plate contains instruction sheet same as the original one.

Galvanized side with instructions could have few surface scratches, but the mirror side is absolutly clear. We remove the protective layer after all work is done.

Enjoy your loyalty and this unique item from Verlag&Werkstatt Kopf.
Discount 30%
(Old Price 29.00€)
Price 20.30€

Customers who bought this, bought also:
Similar products in category: