Kameradenhilfe Sewing Kit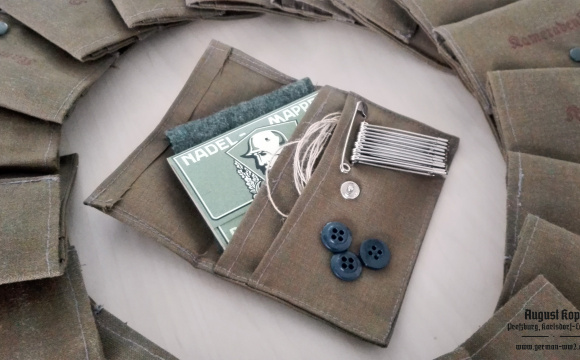 Category: Cleaning, sewing, care
Item #315
Popular soldier's sewing kit pouch for basic field repairs of clothes. Including few common nadelsortiment. Original string and civic buttons are also included. Also feldgrau wool or zelt patch cca. 10x10cm included.

Perfect item for your breadbag.

We respected original shape and quality of stitching (from inner side you can easily see poor quality workmanship that is typical for items produced in huge quantities). Our skilful tailor was not willing to produce goods of this appearance, but we explained that our customers need it just in this shape.

Enjoy this item. It is considered by many customers as the most authentic reproduction.
This product is currently out of stock.
Login
to add it to your wishlist.

Customers who bought this, bought also:
Similar products in category: