Brotbeutel set #3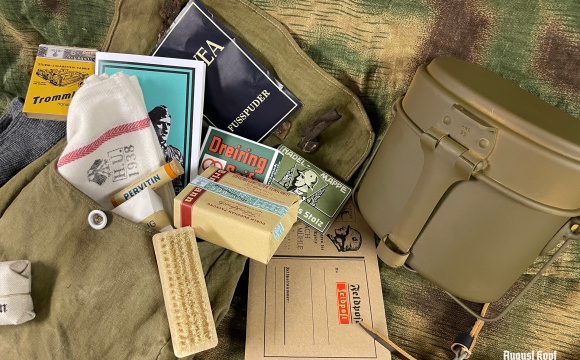 Category: Field equipment
Item #639
This interesting breadbag set includes all the items displayed on the photos. The breadbag itself is of wartime green canvas early war version with minor repairs done and some still requireing. Enjoy some of the most recent items from our portfolio in one convenient set + extra new kochgeschirr.

Set includes:
- wartime earlywar breadbag with small repairs needed (sewing as on photos)
- restored kochgeschirr with leather strap from our new offer
- empty pervitin vial
- empty tobacco package
- hygiene: towel and soap
- sewing kit reproduction
- liederbuch part 1
- army bandage marked 1943
- fusspuder with repro socks
- feldpost game schach
- few others: cleaning brush, trommler cigaretten box empty

Brotbeutel middle hook was replaced by postwar version and requires some sewing, but overall makes a very nice addition to collection where missing. Marked 1940. All included content is highly recommended for landser impression and represents a common pocket litter.
This product is currently out of stock.
Login
to add it to your wishlist.

Customers who bought this, bought also:

8.00€
Similar products in category: