Medical set #3 Drei schwestern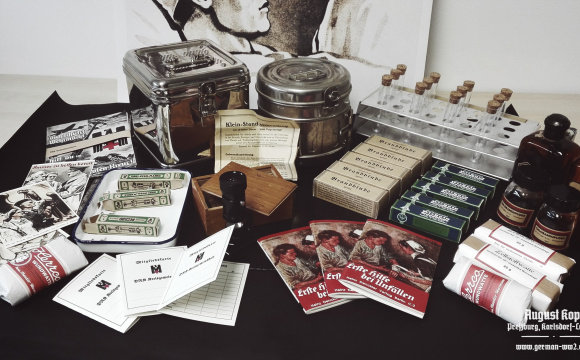 Category: Medical/sani sets
Item #413
Huge set of combined original and accurate repro medical items. Ideal combination for you sanitary impression, DRK station, field hospital. This items will fill multiple tables and create a perfect impression.

This big bundle set includes:
- 2x original sterilisers (Original DRGM steriliser in amazing condition, famous AESCULAP manufacturer + another genuine round steriliser in nice condition, no markings found)
- aluminium rack for testing glass
- 12x test tubes
- original DRGM microscope incl. wooden box and leaflet
- 3x DRK schwester member card
- 3x booklet First aid
- 10x registration leaflet in DRK design
- big DRK poster
- 2x Chloramine bottles (org. military glass)
- 1x Aethanol brown bottle (org. military glass)
- 1x Spir. Natur brown bottle (org. military glass)
- 1x white enamel bowl, blue rims
- 3x genuine 1ml syringes in repro boxes
- 3x postcards DRK topic
- 2x Wundwatte Herrca
- 2x Zellstofwatte package
- 5x Brandbinde box
- 5x Burn Brandbinde box incl. instruction leaflet

Overall retail price is over 450€.
This product is currently out of stock.
Login
to add it to your wishlist.

Similar products in category: